Plastic Swing Doors and Strip Curtains
Plastic doors are available in two options: Plastic Swing Doors and Strip Curtains.
A Plastic Swing Door provides safety, hygiene and environmental control in an attractive and super reliable design. Providing hands free access, a Swing Door is clearly the most practical and economical solution to doorway problems. Supermarkets, hospitals, warehouses, coolrooms and factories are just some of the applications that benefit from the installation of this popular door.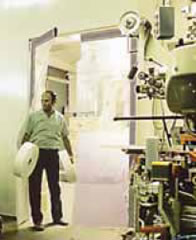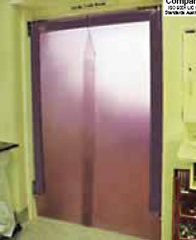 Plastic Strip Curtains are the most economical solution to industrial, commercial and institutional doorway problems. Controlling wind, rain, noise, dust, heat, cold, humidity, insects etc. they are inexpensive, simple to install and extremely efficient and convenient. Suitable for all internal and external applications.
A comprehensive range of strip sizes and overlap configurations is available according to the door size, traffic density and each individual application.
PVC curtains can be used not just as a barrier in doorways, they can be used to mark out an area for incoming or outgoing goods, or a containment area for goods that need special handling requirements. Strip curtains can be used in many and different ways.