Concealed Doorclosers
Hydraulic Doorclosers, floor springs and transom mounted closers are manufactured using high strength pressure die cast aluminium bodies and have precision machined components.
Hyraulic Doorclosers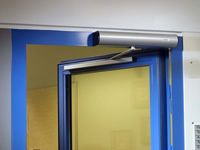 Hydraulic Swing Door Operators are an effective means of providing automatic door operation without compromising safety or user convenience.
Swing Door Operators feature programmable safety features, and enable the provision of automatic door operation to existing swing doors. Used in hospitals, sterile environments and in situations where sliding or revolving doors are not a practical option, the Swing Door Operator is fire rated. Swing door operators can be retro-fitted to most existing doors.
Above all else the Swing Door Operators provide convenience and ease of access.
Transom Door Closers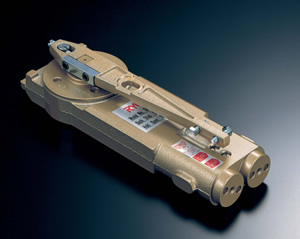 Concealed overhead transom closers are a standard fixture on the great majority of commercial aluminium-framed doors. Like floorsprings, they can incorporate a stand-open facility if needed, so that the doors stay in the open position. Doorclosers can be fitted in conjunction with hold-open devices linked to the fire alarm, so that the doors will close automatically when the fire alarm is activated.
This closer mounts above the door, in the frame header. (You will see a plate in the top of the door frame.)
Floor Springs
Mounted in the floor for unobtrusive door control, these closers are available for most applications and are particularly suited to heavy doors. Click here for more information about Floor Springs.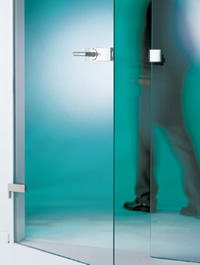 Patch Fittings
They may often go unnoticed, but their overall effect is often quite breathtaking. They open and close, swing and slide. And they just look so good.
A stylish solution for solid glass doors, patch fittings hide most of the door control hardware, leaving only chrome or brushed plates visible.